World Class Land and Sea Rigs
Our Vendor's deep roots in the manufacturing of drilling rigs start back in 1929 and since then continuously improved rig design by raising the pull-up capacity, enhancing safety, optimizing performance and minimizing environmental impact.
starting from Massarenti & Branham-design produces a full range of land rig packages to satisfy almost any need with successful achievements all over the world.
Understands that drilling contractors objectives and conditions are constantly
Main features can be listed as follows:
Wide working area on the drill floor and around the drawworks;
Mast static hook capacity up to 907 metric tons (2.000.000 lbs);
Simple structure with components easily erected with the use of a crane;
Four point leveling system built into mast legs above the drill floor;
Compact design which reduces the number of truckloads;
Mud recovery system under the drill floor to minimize environmental impact;
Sling shot or single step hydraulic raising;
Nabors'
The Nabors rig fleet represents one of the world's youngest and most advanced fleets in the gas drilling and land drilling industries. From standard rigs to more unique constructions, Nabors' rigs provide solutions for any scale or environment.
Nabors iRig
Nabors iRig® drilling systems feature a man-less rig floor, fully automated drill pipe handling and casing running systems, a closed-loop system, as well as automatic control of downhole directional drilling.
Nov Rigs
ur land drilling rigs offer market-leading power, precision, and rig design. Our innovative technology packages, when integrated with our drilling equipment, drive significant performance improvements, giving you an edge in today's most challenging drilling environments.
Understanding that flexibility in the field is critical, our land rigs can be rigged up and down with ease and speed. We've designed our rigs to succeed in difficult drilling conditions, letting you drill for oil or gas when and where you need to with confidence. When you choose NOV, you're backed by an organization with more than 170 years of drilling experience, and as the OEM, we understand your needs and your equipment better than anyone else.
We integrate our advanced rig technology, such as the NOVOS process-automation platform, with rig equipment to ensure you can effectively manage hardware and software in a way that enables scalable control, monitoring, and optimization of drilling operations across your fleet. Using NOVOS allows your drillers to focus on what's really important rather than menial, repetitive tasks, making every driller the best driller.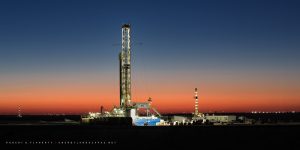 Advanced technology for drilling operations.
Bentec – Engineering, design and manufacturing of complete customized drilling rigs including rig mast and substructures.Bentec rigs successfully operate in the major oil & gas fields around the world. Our drilling rig specifications varied from light units to heavy-duty ones with drawworks capacities of up to 3 000 horsepower.
Depending of the application and operation areas we offer any customer focused drilling solutions.
To deliver highest quality standards complete rig systems can be rigged up in Bad Bentheim, Germany, Tyumen, Russia or Nizwa, Sultanate of Oman.